Yes, yes, being a mummy is the most time consuming thing in the world, I know, I am one!
But, you have to make some time to do things you like too, otherwise you will surely go loopy.
So, here are my suggestions of fun things to do with that spare ten minutes you manage to squeeze out of a day.
-Write something. If you're reading this,chances are you've got a blog of your own. If not, why not start one? You don't need qualifications or experience - just a free blogger account & you're good to go.
-Then you could go play over at Josie's weekly writing workshops. Click the logo to go have a look.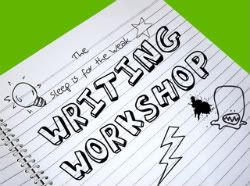 -You could also join the gang over at British Mummy Bloggers - loads of forums & chatter & great reading to enjoy.
(look me up while you're there!)
Visit British Mummy Bloggers
-Heather, over at Notes from Lapland, has started a really fun secret post swap deelie, click on the gift tag for more info...